NetApp – Endura riders compete in a total of eight national championships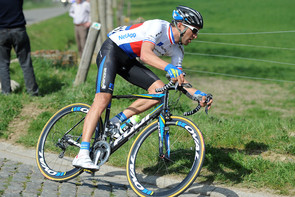 Every year, on the last weekend before the Tour de France, the national championships are held all over Europe. Before the road race titles come up for grabs on the coming Sunday, the time trial competitions are also held in some states. Delegates of the NetApp – Endura Team will be trying to win the much sought-after champions' jerseys in a total of eight countries, which will then mark them out for a year as the national champion of their home country. Jan Barta will be defending two titles at once because the Czech rider is the national champion both in the time trial and in the road race.
In Germany Paul Voß will be heading a four-man team. Following his strong performance in the Tour of Slovenia, a lot can be expected of this Rostock-born rider on the slightly abbreviated circular course in Baunatal-Edermünde.
In the Czech Republic, Leo König and Jan Barta will try with the aid of ace assistant Frantisek Padour to retain the red, blue and white champion's jersey within the ranks of the NetApp – Endura Team. In the time trial, title-holder Jan Barta still retains favourite status after several top-class results and he is the top favourite for a third time-trial gold in a row.
There will be another trio lining up for the start in Great Britain. There the fast finisher Scott Thwaites is considered a dangerous outsider.
The two Portuguese riders, Tiago Machado and Jose Mendes, are anything but outsiders. Despite that the duo will need good legs as well as a little luck because against numerically superior delegations from some other professional teams, even Tiago Machado, who is currently on top form, will face a mighty challenge.
Solo starters include Italian Cesare Benedetti, Pole Bartosz Huzarski and Irishman Sam Bennett. For the two former riders the championship will almost certainly turn into a training session under competition conditions, because without team support it is virtually impossible to win both in cycling-mad Italy and in Poland, which is well known for its strong national scene. In Slovenia Blaz Jarc is considered a dangerous outsider. The situation in Ireland is rather different. As a result of his fast finishes, Sam Bennett, who has already scored three wins this year, is perhaps the hottest NetApp – Endura tip for next weekend.
Line-up:
Czech Republic
Time Trial (26.06): Jan Barta, Leo König
Road Race (29.06): Jan Barta, Leo König, Frantisek Padour
Germany:
Road Race (29.06): Ralf Matzka, Andreas Schillinger, Michael Schwarzmann, Paul Voß
Irleand:
Road Race (29.06): Sam Bennett
Italy:
Road Race (29.06): Cesare Benedetti
Poland:
Road Race (29.06): Bartosz Huzarski
Portugal:
Road Race (29.06): Tiago Machado, Jose Mendes
Slovenia:
Road Race (29.06): Blaz Jarc
United Kingdom:
Road Race (29.06): Joanthan McEvoy, Erick Rowsell, Scott Thwaites