NetApp – Endura announces long list for the Tour de France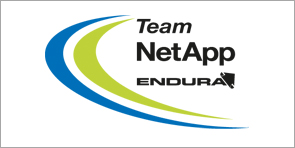 With just six weeks to go before its debut at the Tour de France, NetApp – Endura announces its expanded squad for the season highlight. Over the next four weeks, the management of the highest ranked German cycling team will choose nine riders from that group who will be at the starting line in Leeds on July 5. All the riders preselected, with the exception of neo-pro Sam Bennett and local hero Scott Thwaites, have already gained experience in a Grand Tour.
NetApp – Endura is looking back on the most successful start to a season in its team history, which means it is optimally prepared for the Tour de France. In addition to two victories, the team has already scored 11 further podium spots. "We're on a very good path. During the classics, the team showed that we have clearly improved in that area. At the stage races, we always gave top performances and we were contenders for good results," says Ralph Denk, Team NetApp – Endura's team manager.
With just six weeks to go before the start of the Tour de France, the team's goal is clearly defined. "We're aiming for a stage win and a Top15 position in the GC. Our goals are realistic and the entire team is already feeling self-confident because of that," Denk adds.
The final squad depends in large part on how team captain Leo König continues to improve. "Selecting nine riders is not easy for us because at the moment we have a very broad spectrum on the team. Leo is the team's leader and his condition will determine how our Tour squad looks like. If he's in top shape, then he'll be given the full support of the team. On the other hand, if his preparation is further compromised by his knee problems, we'll adjust our tactical plans. And that will have an impact on the squad. But the last couple of weeks have shown that the team can convert even that into results," says Denk.
You can read a full interview with Team Manager Ralph Denk at www.netapp-endura.com/tour. Team NetApp – Endura will publish its final line-up in four weeks' time on June 23.
Long list Team NetApp – Endura at the Tour de France (May 22, 2014)
Jan Barta, Cesare Benedetti, Sam Bennett, Iker Camano, David de la Cruz, Zak Dempster, Bartosz Huzarski, Leopold König, Tiago Machado, José Mendes, Andreas Schillinger, Daniel Schorn, Scott Thwaites, Paul Voss
Downloads

220514_EN_TdF_Line_up.pdf0.9 M