Interview with Bartosz Huzarski ahead of Sunday's World Championship Road Race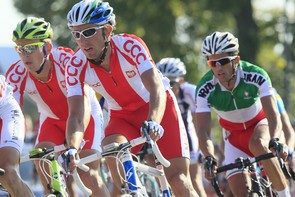 Bartosz Huzarski will take on a very difficult course on Sunday's road race at the UCI World Championships. He arrived in Italy today, we spoke to him two days before the race
What do you think about the course on Sunday?
It is a really hard and technical course. It can also be very dangerous due to the expected rain in the afternoon. We have to look out on the descents, because the road might get slippery. I saw the under 23 men's race today and the first two came in one by one. It showed that the course is very selective. It will be very hectic on sunday, everyone wants to be in the front when it goes uphill and there will be some splits in the field.
How did you feel after the Vuelta?
I feel really good and I am not too tired after these three weeks of racing. After I came home from Spain, I had five easy days to regenerate my body a bit. After that I started training again. I look forward to Sunday and I am very motivated for my last three races of the season.
Have you prepared yourself especially for the World Championships?
Yes, I've put in some extra training this week. On Monday I rode for six hours on a mostly flat course. Tuesday I just had an easy, one-hour recovery ride. On Wednesday I rode 200 kilometres through the area I live in Poland, including 20 to 25 short and easy climbs. I took a rest day on Thursday. I have arrived in Tuscany today and revisited my old training routes from when I rode for Italian teams. On Saturday I will do some sprints to keep my legs working. I rode about 3,500 kilometres in the Vuelta in total, so the few days of rest I had were more important than any extra training session.
The polish national team has a very strong line up this year. How would you rate your chances on sunday?
We have nine riders at the start, which I think is the biggest line up we had in a very long time. Although our official meeting will not happen until Sunday before the race, I know that my role will be that of being the one who helps the leaders or covering a break. The course is very hard and the other teams are very strong, so my goal is just to show myself and get the name of Team NetApp - Endura out there to the viewers.