Bartosz Huzarski and Jan Barta show a great performance at the World Championships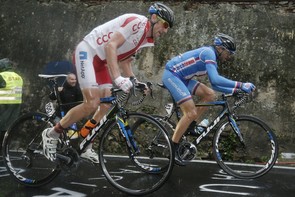 Jan Barta and Bartosz Huzarski remained as the last riders of a former five-men breakaway. Both of them shared their work as escapees and Huzarski only got caught with about 20 kilometres to go. In very tough weather conditions he managed to remain up front for almost seven hours.
"The weather conditions were truly horrible, it was raining down heavily but thankfully it was not cold. My goal was to get the logos of NetApp and Endura well represented and show a good performance in the Polish jersey. The breakaway worked really well together, so we were able to take a good lead. It later came down to just Jan and me, which was fortunate for me because I know how much he is able to suffer and he helped me a lot. It was a good decision to stay up front, due to a lot of crashes happening in the main field. The descents were really dangerous and technical, and as it is always the case at the world championships, the field was very motivated and a lot of them on top form, so we expected it to get hectic. They caught me with 1,5 laps to go, which is of course a bit sad, but I've spent nearly 240 kilometres in the break. I will now get dinner with the team and relax a little. My next race will be Milan-Torino on Wednesday and I'm also looking forward to Lombardy as my last race this season." Huzarski commented after the race.